Our Visionary Leader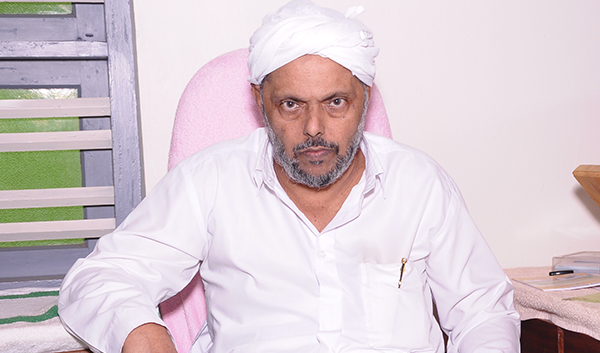 Shaikhuna C.H. Bapputty Musliyar is a renowned scholar and has been known as a spiritual presence across Kerala. He is the founding father and General Secretary of Sabeelul Hidaya Islamic College till present.
Born in 1948 at Vattapparamba village from Parappur Panchayath in the district of Malappuram, Usthad hails from a scholarly family surnamed as Cholakkalakath and popularly known with the short name CH. His father, CH Kunheen Musliyar also was a well known pious person and spiritual shelter for large number of people.
Bapputty Musliyar completed his elementary studies from religious madrasa and formal schooling systems of the village. He persuaded his education in Darses (mosque schools of Islamic education which prevail in Kerala) at different places. Karinjapadi Moideen kutty Musliar, Oorakam Kunhu Musliar, Cherussola Kunhimuhammed Musliar are some of his famous teachers at different religious institutions. He is a living model of profound spiritual entity, love, harmony, humanism and social wellbeing. He has been treating with his spiritual touch a lot of different kinds of patients from the all corners of the state. Consoling the haphazard hearts and by becoming an asylum for helpless people, honorable Usthad CH Baputy Musliyar has been turned out a real social promoter who chiefly dedicated his life for society by keeping the halo spiritual holiness upon his personality.
The family legacy of Usthad reaches to Bakri family, the family of prophet's respected adherent and first Islamic Khalifa Abu Baker Siddique (may Allah be pleased with him) who performed a historical part in the sacred line of benevolence and boundless generosity over the Muslims.
This glorious family reached at Parappur in Kotakkal along with Zainudheen Musliar and was blessed with the scholars in Cholakkalakath family. Baputy Usthad persists in the spiritual way as he walks on his father's footprints to the world of spirituality by becoming a blessed presence and giving healing touches and merciful heart for a large number of people.
Baputy Usthad is currently living in Vattaparamba, Vadakkumuri as it has been blessed with a handful number of scholars and there locates the tomb of Husain Hadhrami who belongs to Mamburam Sayyid Quthubuzzaman's family. Baputy Usthad cures the people who seek treatment even in his unhealthy condition. His humble personality not willing to appear in public gatherings distinguishes him from many other leaders. Without any material interests, he dedicates his whole life for the social work and educational enrichment.
Sabeelul Hidaya Islamic college runs with the benevolence of the Usthad for the aim of upbringing a group of dedicated generation who can enlighten the world through wide spheres of noble Islamic thoughts. May Almighty Allah accept all his endeavours and bless him with a long life. Ameen.